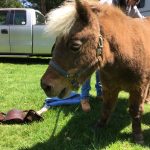 Ponytails Pony Parties provides pony rides for children and adults of all ages. We are here to give more than just rides on our wonderful animals. We hope to create an everlasting memory for your event, child's birthday, family gathering, church fair or any occasion that pony rentals are needed.
Pony Parties are fun!
Ponytails offers a hands on, interactive experience for everyone.
Call us to discuss the details of your party and receive a quote: 508-280-9413